Ben's Big Art Box
Ben's Big Art Box began in memory of six-year-old Ben Klooster. We celebrate his love of art and all things creative by collecting and donating art supplies and craft kits to the kids at Helen DeVos Children's Hospital in Grand Rapids, MI each December.

Ben's Story
Watch this video to learn more...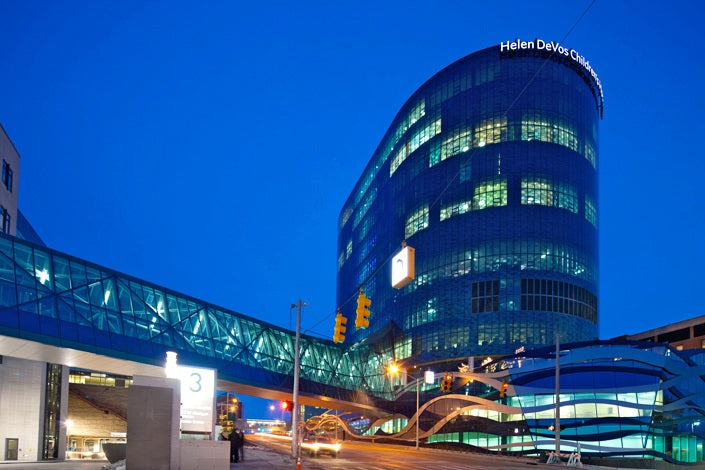 Helen Devos Children's Hospital Testimonials
"Words cannot express my gratitude towards you and all who donated. I was nearly brought to tears when I walked into the classroom on Monday morning.
I have a patient that I was having trouble connecting with (thanks to steroids) and I brought a couple of art projects in with me and he immediately lit up.
I was so thankful for you, and Ben, in that moment and I will be in each of those moments in the future. Thank you."
---
"As a child life specialist who works primarily on the inpatient oncology and bone marrow transplant unit I can attest to how much we appreciate our annual donation from the Ben's Big Art Box team.  So often we are trying to find that one thing that engages patients and brings them out of their shell.  Often times it's art.  A teenager may want colored pencils and an adult coloring book, or a doodle pad.  School age kids are always using markers, crayons and scissors for their schoolwork and it's great to have fat crayons and other pre-schooler/toddler items on hand. 
In the last year and a half or so we have experienced challenges like never before.  At times patient's were pretty much stuck in their rooms, unable to go to playrooms or engage with others.  Having art supplies that could be used once and sent home with patients was a huge blessing, and so many of those items came from our friends at Ben's Big Art Box.   It's not just on my floor where the items get used though.  It can benefit a patient and family who are waiting in the emergency room, our adult world child life specialist may use supplies when she is helping children visit a parent or grandparent, and patients in our outpatient or clinic settings can always use a little incentive to get through the long hours. 
Ben's Big Art Box has benefitted so many of our patients and on behalf of the child life specialists here we are grateful for every marker, crayon or colored pencil!"
---
"I was walking down the hall…and encountered Ben's Big Art boxes! Child Life staff were transporting to the clinic storage area. I was wowed…and they told me that was only a fraction of what was donated. I am further wowed!
Thank you and your world for the awesome supplies. I will think of Ben whenever I see anything "artsy" going on…which will be a daily event!"
"We are still reeling over this donation! It's completely beyond overwhelming and humbling. The organization level of this donation along with the incredible quality of everything is absolutely incredible. What a beautiful gift! Thank you again so much for all you do!"
"Just absolutely beautiful to honor Ben and his birthday this month  we are so incredibly thankful to you, your family, friends and beyond for this generous gift.  You will help us fill the tray tables of so many kids with hands on activities and a moment of 'normalcy' here at the hospital. Thank you just isn't enough, such a blessing."